Workshops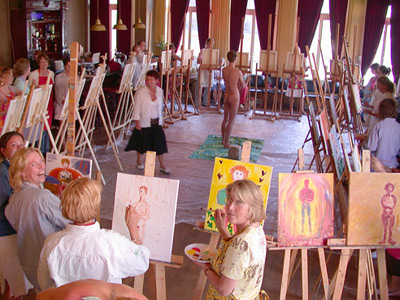 • plezier voor u en uw gezelschap
• actief bezig met begeleiding van een ervaren docent
• onder het genot van muziek, een hapje en een drankje
Personeelsverenigingen, een team met collega's, uw vereniging, studentenvereniging, vriendenclubs, bachelor-party's, samen een sprankelende middag door iets aktiefs te doen. Een workshop schilderen in combinatie met lekker eten, cocktails, buffet, diner. Alles om een leuke middag te hebben met een aantal leuke vrienden of collega's.
• Fun for you and your party
• Active workshop supervised by an experienced teacher
• While enjoying music, a snack and a drink
A teambuilding day, or family-day, group of friends, clubs, bachelor parties, enjoy a sparkling afternoon by doing something actively. A painting workshop with great food, cocktails, buffet dinner. All to have a good time with some nice friends or colleagues. So ... you have a group and looking for a nice day program? You just arrived at the right spot!